The untimely death of a loved one brings a great deal of grief. Living the rest of your life without a significant other is a challenging burden to take on. Only those who have experienced such a loss can comprehend the situation. We have assisted families with wrongful death claims stemming from negligent accidents to fatal prescription drug side effects. While we may not be able to relate specifically to your loss we remain compassionate in our approach to all wrongful death lawsuits.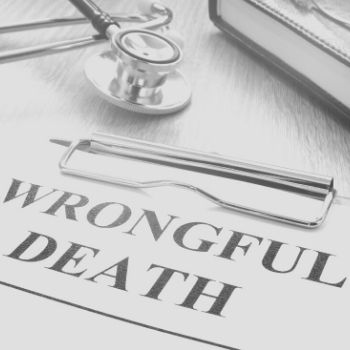 What to know about wrongful death cases
In many cases, dealing with the loss of a life is only part of the struggle. Surviving family members may be left with a financial hardship in the form of medical costs, loss of household income, funeral services and a loss of companionship and services. A wrongful death lawsuit may be the only chance for relieving these burdens. Though no amount of money can replace the life of a loved one a wrongful death action could provide the monetary assistance needed to reduce the financial worry.
If you are unsure if your loved ones death was a result of negligence contact our experienced legal staff to find out if you have a right to file a claim and recover. Our team understands these are trying times and will work diligently to see this through to completion.
Some examples of wrongful death claims include those stemming from:
Fatal automobile/trucking accidents
Medical malpractice
Prescription drug side effects
Nursing home abuse
Drunk driving collisions
Amusement park/Roller coaster accidents
Construction/Work-related accidents
Defective products
We always offer a free consultation. We also handle these claims on a contingency basis meaning there is no fee to you unless we are successful with your claim. Don't wait to call. These claims are governed by a statute of limitations, which if not pursued in a timely manner, may bar you from being able to file a lawsuit. Put us to work for you. We'll defend your rights and pursue justice on your behalf to ensure your family obtains the compensation you deserve.
Let's talk about your case. Call us or fill out the form for a free evaluation.