Motorcycle Accident Lawsuits
Motorcycles are an inherently dangerous form of transportation. They are not equipped with the same safety standards as cars and SUV's for example with seat belts and airbags. According to The National Highway Traffic Safety Administration (NHTSA) there were 4,323 fatal accidents involving two-wheel motor vehicles.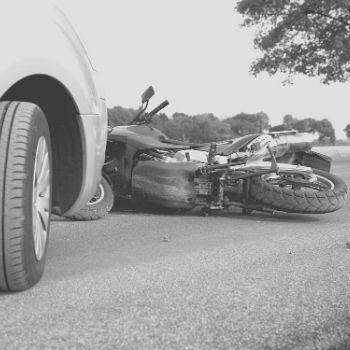 Motorcycle accidents can be particularly complicated in regards to a personal injury claim. An accident victim must first establish the cause and liable party whether it be another driver, defective roadway, faultypart(s) or repair or perhaps a combination of factors.
Often times, due to the dangerous nature of motorcycles, a severely injured rider is unable to give their account of the accident at the scene or prior to receiving medical treatment, especially when knocked unconscious. The police report and witness accounts may not accurately depict the cause and nature of the accident. For these reasons and many others, it is important to have aggressive legal counsel on your side. Regardless if it is a single bike accident, hit and run or multi-car pile up – you will need trustworthy guidance. Anvil Legal Group, LLC will zealously represent you after an accident.
What to do if you get in a motorcycle accident
If physically capable – call the police.
Not only is it your responsibility to do so, this will help properly document your claim, assist your insurance company and provide you with the necessary information on the other drivers and witnesses.
Immediately seek medical attention.
Injuries from an accident are not always physically noticeable immediately following the collision. Your health and safety are the number one priority so we urge you to seek medical a medical evaluation right away. Adrenaline will often mask symptoms so we recommend that you do not refuse medical attention at the scene.
Document the scene of the accident.
Take pictures. Documenting the scene of the accident will assist with prosecuting your claim. If you or another passenger is physically able use a mobile device to take pictures of the scene and vehicles involved.
Keep records of medical treatment.
Keep a journal of your treatment, names and phone numbers of all treatment providers, medications, physical therapy, etc. Information such as this documents your claim and exemplifies what you've been through.
Obtain a police report.
If the police are called to the scene be sure to obtain a police report from the responding officer. If you are physically unable to, such as in severe collisions in which you are transported from the scene via ambulance, make note of the responding police department. Be sure to keep a copy of the report. You may also have the obligation in your state to file your own report of the accident, regardless of the police arriving at the scene.
Notify your insurance carrier.
Be sure to notify your insurance carrier immediately following the accident. Failure to do so may affect your coverage and ability to obtain reimbursement for medical expanses.
Contact Anvil Legal Group.
Our attorneys and legal staff are standing by to assist with your claim.
Let's talk about your case. Call us or fill out the form for a free evaluation.