Talcum Powder Linked to Ovarian Cancer
A couple of Johnson & Johnson's flagship products have come under fire in recent years after a string of lawsuits has shed light on research suggesting a link between "talc" or "talcum powder" and ovarian cancer. Two of Johnson's most popular products Baby Powder and Shower to Shower contain talcum powder. Research that has been available since the 1970's indicating talcum powder is associated with ovarian cancer.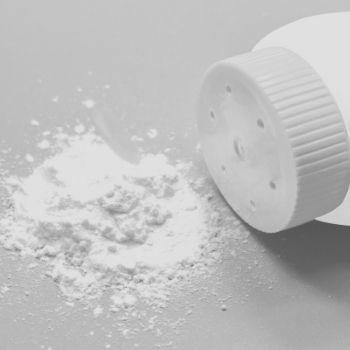 What to know about 
talcum powder and ovarian cancer
For years women have used Johnson's Baby Powder and Shower to Shower as a hygiene product for the vaginal area. Women applied the powder to their private parts and dusted undergarments to keep the region dry. As far back as the 1980's Johnson and Johnson acknowledged but appears to have ignored acting on research suggesting a link between their talcum products and the dangerous cancer.
Talcum Powder & Ovarian Cancer
About 20,000 women are diagnosed with ovarian cancer each year. Ovarian cancer is the 5th leading cause of cancer deaths in the U.S. A Harvard epidemiologist, Dr. Daniel Cramer estimates that the powder may contribute to as many as 10,000 women's development of ovarian cancer each year. Numerous studies all point to a significant increased risk of developing ovarian cancer when the powder is used in the genital region. Including a study published in 2013 by Cancer Prevention Research, which acknowledged a 20%-30%, increased risk.
Women who have used talcum powder should be aware of the signs and symptoms of ovarian cancer, which may include:
Chronic abdominal bloating
Significant changes in appetite
The need to urinate more frequently
Feeling fatigued or low energy
Talcum Powder Lawsuits
Numerous lawsuits have been filed in the U.S. on behalf of women who developed ovarian cancer after using Johnson's Baby Powder or Shower to Shower. Until last month, no plaintiff's had been compensated until last month when a Missouri jury awarded $72 million to the family of a deceased ovarian cancer victim. Additional cases are pending throughout the nation.
Anvil Legal Group, LLP is representing women who have used talcum powder and been diagnosed with ovarian cancer. Speak with one of our lawyers and see if a lawsuit against Johnson & Johnson is an option for you. We work hard to hold negligent product manufacturers accountable for the damage they cause. We understand the burden you and your family may be experiencing and strive to make this process as effortless as possible for you.
Do you have a case?
Women who have used Shower to Shower or Johnson's Baby Powder in the genital region over an extended period of time and subsequently developed ovarian cancer may be eligible to pursue legal action. Family members of women who have died from ovarian cancer after using one of these products may also be eligible to pursue a lawsuit. Our attorneys review each case on an individual basis and we do not charge any up-front fees. In fact, if we do not obtain a settlement on your behalf you will owe us nothing in legal fees.
Let's talk about your case. Call us or fill out the form for a free evaluation.